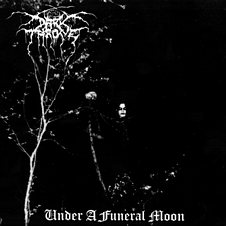 DARKTHRONE
Under a Funeral Moon (.wav files)
Peaceville Records
June 1993

Wav audio files
1411kbps
Three Rar archives inkludes
8 Songs, lyrics and scanned cover-art

Line-up:
Nocturno Culto - Vocals, Bass
Zephyrous - Guitars
Fenriz - Drums

01. Natassja in Eternal Sleep
02. Summer of the Diabolical Holocaust
03. The Dance of Eternal Shadows
04. Unholy Black Metal
05. To Walk the Infernal Fields
06. Under a Funeral Moon
07. Inn I De Dype Skogers Favn
08. Crossing the Triangle of Flames

DOWNLOAD PART 1 HERE!
DOWNLOAD PART 2 HERE!
DOWNLOAD PART 3 HERE!