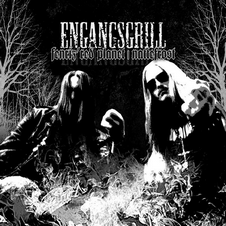 FENRIZ' RED PLANET | NATTEFROST
Engangsgrill (Split)
Indie Recordings
May 2009
Stoner/Doom/Black Metal
320kbps

Fenriz (Gylve Fenris Nagell)
(Darkthrone, Isengard, Neptune Towers, DHG, Storm, Black Death, Satyricon)
Nattefrost (Roger Rasmussen)
(Carpathian Forest, World Destroyer, Grimm, Bloodline, Enthrone)

Available on CD in slipcase and 180G LP.
The recording of Fenriz' part dates back from 1993.
A fourth track was recorded but stays unreleased as of now.
There is an error on track 3 - the master is slightly damaged.

Fenriz' Red Planet
01 My Ship Sailed Without Me
02 Jon Carter, Man on Mars
03 Temple of the Red Dawn Rising

Nattefrost
04 Nekronaut II - Nekro Spirituals
05 Uskyldighet
06 Sin Goddammit
07 Lustmord (skulle det dukke opp flere lik er det bare å runke)
08 Humiliated and Pissed Upon

DOWNLOAD HERE!