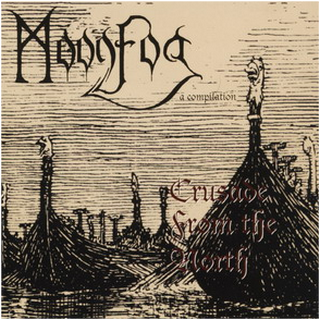 V/A
Crusade From The North
Norway 1996
Moonfog Productions
Mp3 320kbps
Songs from all releases on Moonfog until this one.
A bunch of exclusive tracks and remixes by all Moonfog bands.

A1 Darkthrone Ravnajuv
A2 Storm (10) Oppi Fjellet
A3 Storm (10) Oppunder Skrent Og Villmark
A4 Satyricon Taakeslottet
B1 Neptune Towers To Cold Void Desolation (Excerpt)
B2 Darkthrone The Hordes Of Nebulah
B3 Satyricon Born For Burning
B4 Wongraven Tiden Er En Stenlagt Grav (Excerpt)
C1 Satyricon The Night Of The Triumphator
C2 Isengard Neslepaks
C3 Storm (10) Noregsgard (Remix)
C4 Satyricon Dominions Of Satyricon
D1 Darkthrone Green Cave Float
D2 Neptune Towers Caravans To Empire Algol (Excerpt)
D3 Storm (10) Mellom Bakkar Og Berg
D4 Satyricon Skyggedans

DOWNLOAD cd1-1
DOWNLOAD cd1-2!
DOWNLOAD cd2-1!
DOWNLOAD cd2-2!